What to do in the area
To walk

Due to its central location between mountains and the coast, there are many opportunities for nice walks. The immediate surroundings of Casa Azul are flat and very suitable for a quiet evening stroll. For more of a challenge, you can make mountain hikes with different levels of difficulty within 15 minutes' drive. A walk on the coast or a tough hike in the mountains can be reached in half an hour. Below are a few examples of walks in the immediate vicinity. We will of course help you figure out other options.
https://hondon-nieves.blogspot.com/2013/04/el-pantano-de-elche-prachtig.html
https://sanisidro.es/turismo/rutas/ruta-en-bici/
Benejuzar (25 min) starts behind the church, this is a loop walk.
Hike Crevillente mountain.
The Serra de Crevillent, with steep slopes formed by many ravines, allows us to enjoy a beautiful view over the Hondón valley and on the other side the flat land where you can see the Mediterranean Sea, in clear weather. And this fantastic hike is close to our B&B Casa Azul, less than a 20-minute drive away. It is a brisk hike of at least 7 km. The first hour you climb the mountain to the top of the mountain. After this, the descent begins with beautiful and challenging trails, where you will be constantly surrounded by butterflies. We have made a road map with pictures.
El Pantano de Elche
https://hondon-nieves.blogspot.com/2013/04/el-pantano-de-elche-prachtig.html
In the vicinity of Elche is a beautiful nature reserve created after the construction of "El Pantano de Elche" a dam from the 17th century. You can walk to the dam along the left and right side. If you are afraid of heights, avoid the left side of the dam, but it is the most beautiful walk. You can reach the bottom of the dam via the right side and you also have the best view of the dam. It is an arched dam about 22 meters high and 75 wide, with a wall thickness of 12 meters at the base and 9 meters at the top. The width of the structure is about 75 meters.
PARQUE NATURAL EL HONDO
Hidden behind the reed beds, this marsh (10 minutes' drive) offers the appearance of a large natural lagoon, complemented by a series of ponds and salt marshes immersed in a horizon of crops and palm groves, forming an exceptional landscape. There are 172 counted species of avifauna, of which fifty breed. These include the gray teal, one of the most endangered birds in Europe, and the white-headed duck, which is also in danger of extinction, as well as herons, ducks and waders of various species, and flamingos. In the aquatic environment we find the eel, the mullet, the carp and the common fart, a small endemic fish of the Spanish Mediterranean. The landscape of the Hondo is dominated by the reeds, while the reed beds are very fragmentary. Several hiking trails (also suitable for disabled visitors) and observatories allow the visitor to see different corners of the park and observe the activity of the numerous birds, both in the reservoirs and in the sky, where extraordinary sunsets can be enjoyed.
Poza de Fuente Caputa
A visit to this place (35 km from us) where you can immerse yourself in a very remarkable landscape, and above all beautiful. This space has a water source, several pools ideal for bathing, waterfalls and an environment full of pine forests and vertical limestone walls.
Wine tasting Bodegas Faelo
At less than a 15-minute drive you can enjoy a wine tasting for only 15 euros per person (including small snacks). You then enjoy a winery and you get to hear the history, family tradition and charm. You do have to book in advance.
As Bodegas Faelo says: "If you want to live a charming experience in the middle of nature and see how traditions in viticulture can be preserved, we are waiting for you"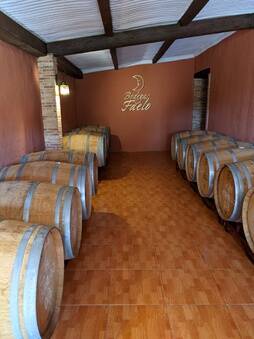 Moroccan oasis in Spain
Less than 5 km from us is a beautiful tea garden, somewhat hidden in the mountains. This tea house is definitely a gem. The beautiful garden is very nicely laid out with all the beautiful and intimate seating areas, like an oasis.
You can enjoy it in peace, you almost lack eyes, behind every corner something different and it is richly decorated with Moorish lamps. It is also very beautiful in the evening.
There is a wide choice of teas (including coffee and soft drinks). Entrance is 8 euros per person, this includes a drink.
Golf
In the area of Crevillente you will find a large number of golf courses, within a distance of less than half an hour there are 9 golf courses accessible with different challenges.
Fishing
At sea you can fish with a charter boat for tuna, bonito, sea bass and in the right time (April, May, June) swordfish
In the reservoirs near Casa Azul you can fish for Barbel, carp and largemouth bass. There are several reservoirs: Pantano de Elche, Panta de Crevillente and Embalse de la Pedrera.
Going out
Fancy a night of dancing. Then this is possible in the nightclubs of Rojales. But also in the cities of Alicante or Torrevieja there are various entertainment options. A drink on a terrace and enjoy the Spanish evening life.
Cycling
The surroundings of our B&B Casa Azul are very inviting for cycling. There are various cycling routes, which you can get from us. Some routes are a bit further away from us. Such as a 38 km cycle route along la Zenia / San Pedro, which goes along a canal. You can also cycle around Lake Torremendo (22 km). Some routes are more challenging than others.
Mud and salt-baths
Did you know that pink lakes exist? In Spain you will find Torrevieja, a small town on the Costa Blanca. Here you will find no less than two different saltwater lakes that together form the nature reserve, called Las Salinas de Torrevieja.
How is that possible? The algae and bacteria that live here give this beautiful lake its strawberry pink color. And the best thing about this lake is that you can even swim in it!
Also, the mud and salt would have different powers, such as relieving various respiratory or skin problems. Because there is so much salt in this lake, you can float in this water and enjoy the beautiful view.
The pink-colored Flamingos also visit here from time to time. Because the Flamingos eat the special algae from this lake, they get their pink color. How cool is that?
Steden
Altea

The picturesque artists' village of Altea (55 min drive) is beautifully situated on a hill that overlooks much of the coastline both north and south. The Altea skyline is dominated by the dome of the Consuelo church. With the blue tiles of Valencian ceramics, it is a real eye-catcher. The town has traditionally attracted artistic people. It has a beautiful historic center with narrow streets and cozy squares that will not look out of place on any postcard. Numerous painters, poets, sculptors and writers found their inspiration here. The visitor, in turn, can find it in the many galleries and trinket shops that can be found there. Altea also has a beautiful coastline with a pleasant promenade and Playa de la Roda with fine pebbles interspersed with rocks. Nature lovers can visit the protected nature reserve Sierra Helada outside of Altea to hike and enjoy the breathtaking views of the high cliffs over the sea and the rugged coastline.
Calpe
Calpe (1 hour drive) is a decent touristic place with lots to do all around. The city is dominated by the impressive chalk rock Peñon de Ifach of 332 meters high. The rock is the smallest protected area in Spain and can also be climbed for unforgettable views. This is a popular activity, especially among bird and plant enthusiasts, because of the unique flora and fauna (more than 300 species) that they can find there. There is also a small interpretation center for those interested in learning more. In Calpe you can walk around a large salt lake or stroll through the harbor to admire all the yachts that are there or enjoy a plate of fresh fish on the pleasant boulevard. Calpe has no fewer than six museums, including the archaeological museum, an ethnological museum and a real museum for cartoon character lovers: the Museo del Cómic. Both the Fosa beach and the Arenal beach are popular. On the hill inland lies the old town with the restored 16th century Mascarat castle.
Elche
Elche is best known for the largest palm forest in Europe, but in addition to this, some beautiful buildings can be seen in the old core of the city. In the center of the city you will find some sights. The Basílica de Santa Maria was built in the 17th century and is one of the most beautiful Baroque churches in Europe. Next to the basilica is the Torre de la Calaforra, a medieval defense tower. The Convent de la Mercè houses Arab baths from the 12th century. These consist of a cold bath, a moderate temperature bath and a hot steam bath. There are about 200,000 palm trees around Elche, which together form the largest palm forest in Europe. The forest has trees that are about 200 years old and some palms are 40 meters high. In the Museu del Palmerar you will learn more about the palm grove. Jardín Huerto del Cura is a botanical garden with approximately 1000 palms, but also various other plants and trees such as cacti and dragon trees. You can follow a marked walk (guided on cassette) or enjoy all the beauty that the garden has to offer on your own. The highlight of the garden is the so-called Keizerspalm, an approximately 150-year-old palm with eight trunks. The garden offers plenty of shade and numerous fountains, streams and ponds, which will make your stay more pleasant. Elche also has a small zoo with water park where you can have fun, especially suitable for the smallest.
Guardamar del Segura
Guardamar is located on the river Segura (25 min drive), which plays an important role in the water supply of the vegetable garden of Spain in the more southern region of Murcia. That river and Guardamar itself had to be protected over the centuries and that was done from behind the city wall, where remains of it nowadays, and from the 12th century castle on top of the hill against which Guardamar is built. At the mouth of the river are Phoenician remains of the lost port city of La Fonteta. There are also testimonies of the Iberians in the form of a necropolis. In Guardamar del Segura thousands of Spaniards from the interior celebrate their summer holidays. They are attracted by the beautiful dune area that borders the place and the 12 kilometers of coastline. Most of the year, the long boulevard is very pleasant with an extensive choice of restaurants including, in addition to many foreign menus, also plenty of typical Spanish menu. From the castle there is a beautiful view over the town and the hinterland. Two spacious parks (Reina Sofía and Alfonso XIII) are ideal for an evening stroll or to visit the various playgrounds with the children.
Mar Menor
The headland of La Manga del Mar Menor (45 min drive) looks from afar as if high tourist flats rise from the sea. In reality we are standing on a narrow heating land that was once created by sedimentation. Once you are there, however, it is a great place to be with a beautiful, safe beach, a lot of facilities that are often aimed at the whole family and a variety of catering establishments where you can go to with every taste. At the narrowest part, the strip of land is 100 meters wide and at the widest it is 1,200 meters. The Mar Menor is still connected to the fresh water supply of the Mediterranean via a few canals. The Mar Menor contains special flor because of its unique ecological situation. All the way south you can find flamingos at the protected Las Salinas de Marchmalo. At Playa de las Amoladeras, the dunes are protected because of a number of unique plant species. Due to the high mineral and salt content, the water is very good for certain ailments.
La Marina
La Marina (30 min drive) is located just south of Santa Pola and is known for the beautiful dune areas next to the extensive beaches that border areas of forest where you will encounter many picnicking Spanish families in the summer. You can even reach Santa Pola in the north and Torrevieja in the south via the beach. The salt flat of Santa Pola is also easily accessible from La Marina. Much of what you expect in a typical coastal town, you will also find in La Marina. You can rent bicycles, go out, enjoy good food, visit a Phoenician site and of course relax on the beautiful beach.
Playa del Carabassi
To reach Playa del Carabassi (30 min) you can walk down from Gran Alacant towards the beach. Once you arrive at the bottom, you can choose from several footbridges to walk across the dunes towards the beach. This is a protected dune area. There are beach bars where you can eat and drink something. You also have the choice of several beach beds with or without a parasol. Nice and clear and clean water. Definitely recommended this beach!
Santa Pola
Santa Pola (30 min drive) is a typical Mediterranean coastal town that has grown considerably in recent decades due to tourism. The fishing port still plays an important role and from there daily ferries or water taxis depart to the island of Tabarca. A visit to it is perfect for a fun day out.
The municipal aquarium is small but nice and like other places in the area, Santa Pola has its own salt lake. This is a protected nature reserve where you can walk and visit a small museum about salt production. Children will get their money's worth in the fun park Pola Park and Playa de Levante is expansive with excellent facilities, a wide pedestrian promenade with a choice of restaurants. The clear water at Santa Pola is perfect for snorkeling or diving.
There are three watchtowers in and around Santa Pola, Tamarít by the salt lake, Escaletes in the mountains and Atalayola at the current lighthouse. From much earlier are the remains of the Roman house Casa Romana del Palmeral from the 4th century BC.
Valencia
Valencia has some ingredients similar to Barcelona. The city has a historic city center, there are several places of interest that are really worth a visit, the Valencian beaches are there for the sun-sea-beach factor in the summer and there are a number of special buildings that distinguish Valencia from other cities. These highlights of modern architecture are gathered in the new Ciudad de las Artes y Ciencias district. Here art, culture and science are fused together in a beautiful jacket. You can also see the beautiful architecture where the L"Oceanografic (aquarium) is located.
Beaches
Playa de la Albufereta (35 min) is a beautiful beach where it is not too busy during the week. Snacks and drinks are sold, and there is a toilet. You can rent sunbeds for € 5 per day and umbrella for € 6. It is busier here at the weekend. Lots of steps to the beach and / or a very long slope. Water nice and warm. Small parking lot.
Playa del Postiguet (30 min) is a beautiful sandy beach on the marina. Very nice esplanade along the full length of the beach. Also numerous benches along it, and beautiful terraces. Where you can rent sunbeds and umbrellas.
Playa de San Juan (30 min) is a beautiful city near Alicante, which is still part of the Spanish population. This stunningly beautiful beach is worth a visit. Here and there a palm tree, bordered by a long and beautifully tiled esplanade. Really nice to enjoy the sun here.
Playa Moncayo (25 min) is a beautiful and fine beach in the area between Alicante and Torrevieja. No stones or rocks and you can walk far into the sea. Facilities such as toilets, showers, beach bars are more than sufficient with beautiful lounge chairs and fine sand. Enough parking spaces on a site where you pay 3 euros for a whole day.
Playa de la Zenia (30 min) is a lovely beach. There are many other beaches in the area that are also worth a visit. No sunbeds available.
Playa Cabo Roig (30 min) is a large beach with a nice beach bar where it is nice to sit and where they play live music on Sundays.
Markets
In the area there are different types of markets. You have those that only sell food, to markets that are so big that you can enjoy yourself there all day long.
Guardamer (25 min) on Wednesdays 8-13
Rojales (20 min) on Thursdays from 8-13
Crevillente (10 min) on Friday from 8-13
Almoradi (20 min) on Saturday from 8-13
Algorfa (20 min) on Sundays from 8-13
Almoradil (15 min) Saturday all day flea market and Sundays all day at Lemon Road regular market